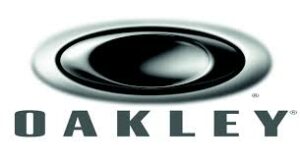 We luv Oakley!
Oakley Frames – For your hard earned money, we believe Oakley gives you the about the most durable sunglass frame you can buy. Made from a proprietary recipe of high-quality nylon, Oakley sunglasses do nothing if they don't hold their shape! They rarely need adjustment or fitting.
Oakley Lenses – Made from polycarbonate material Oakley calls Plutonite, Oakley sunglass lenses features XYZ optical correction. This mean they are corrected up, down and to the side for maximum sharpness and peripheral clarity. They are impact proof, and most feature a super-hydrophobic coating that helps  makes them self-cleaning.
Oakley Rx Lenses – Oakley employs a proprietary version of Free Form optical optimization to give you the sharpest visual experience. We are specialists in both Oakley prescription eyewear and prescription sunglasses. We know all the lenses, coatings and features, and we can help you design about the most optimal pair of prescription Oakley sunglasses you've ever owned.